Getting started with Universal AV
Universal AV allows SecureAPlus to protect your computer with more than 10 commercial anti-virus engines at the same time.
Getting the Highest Detection Rates Possible
The primary advantage of having multiple anti-virus engines to protect your computer at all times is to ensure that your files are checked against potentially the most comprehensive digital threat library available.

No single library can detect all the viruses and malware on time, especially against the 200,000–300,000 threats created daily. Even the best single anti-virus maker can take up to 4 weeks to start detecting a harmful virus. So it makes sense to make use of more than one anti-virus to protect your computer from as many of them as possible.
While normally impractical (huge process drain of 2 or more installed) or outright impossible (conflict between anti-virus engines), SecureAPlus protects your computer with more than 10 anti-virus engines in real-time by leveraging the power of the cloud with Universal AV.
Multiple Anti-Virus Engines in One
All of these anti-viruses are great choices for protecting your PC, but they are even better once they can work together.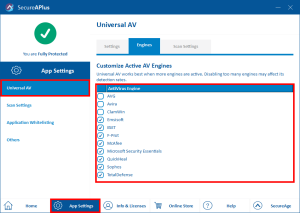 By default, all of the anti-virus engines are protecting you in real-time. This means that results delivered are based on samples collected in the Universal AV library that are regularly checked against the comprehensive libraries of the cloud anti-virus engines.
You can also customize to reduce the number of engines used during scanning if you wish to only trust threat libraries from the most reliable sources.
Learn How to Exclude Anti-Virus Engines from Universal AV
24/7 Real-Time Scanning in the Cloud
While a service like VirusTotal can have more engines scanning a single file at a time, SecureAPlus allows you to continually scan your whole system with Universal AV. This means that all files are automatically compared against Universal AV's samples in the cloud as soon as they get into your system and without the need to manually look into and upload a file for scanning.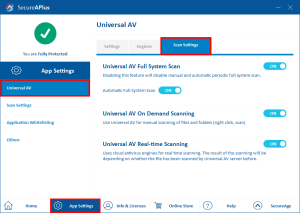 Since our engines live in the cloud your PC continues to be protected even when your computer is off. If an update from any of Universal AV's cloud engines concluded that any of your recent files are a threat, you will be instantly notified via email* or on your next boot up. This allows you to immediately respond to a threat or for Application Whitelisting to block it if it tries to run.
Learn More About Real-Time Scanning Settings
* Email Notifications are only enabled for users with SecureAPlus Essentials and SecureAPlus Pro. For more information about SecureAPlus Essentials and SecureAPlus Pro click here.