CatchPulse features
For information on how to launch the CatchPulse Main Console, click here.
This is how the CatchPulse Main Console looks once you have launched it.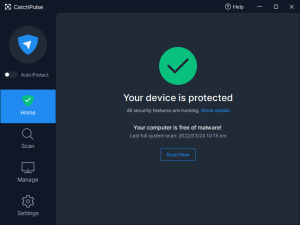 1. CatchPulse Main Console
On the left side of the CatchPulse console, it displays the selected protection mode of the machine.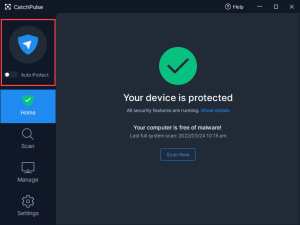 Click on Show Details under the Home icon to view more details of the status.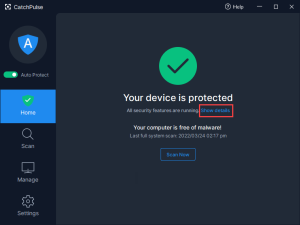 It shows the status of the following: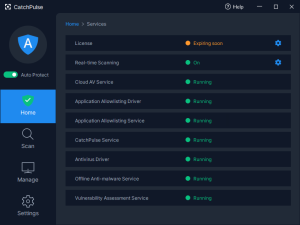 All should be displayed as Running or On when CatchPulse is working normally.
2. Home
Clicking on the Home icon to bring you back to CatchPulse Main Console.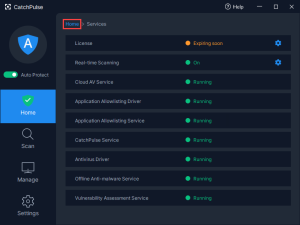 3. Scan
Clicking on the Scan icon will bring you to a page where you can perform scan and review scan results.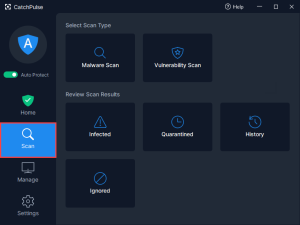 4. Manage
Clicking on the Manage icon will bring you to CatchPulse's settings. To find out more about each of the settings, you can click on the respective links:
Scan Settings
Others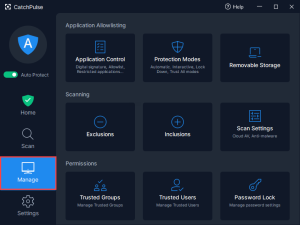 5. Settings
Clicking on the Settings icon will bring you to CatchPulse's General and Troubleshooting features. To find out more, you can click on the respective links:
General
Troubleshooting
6. Help
Clicking the Help icon on the top-right hand corner will lead you to our CatchPulse Support Page using the default browser.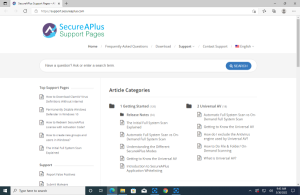 7. Full System Scan
You can manually start a full system scan any time by clicking on the Home icon and selecting the Scan Now button. Just like the automated scans, this will have Cloud AV's multiple engines scan your PC with the latest virus definitions.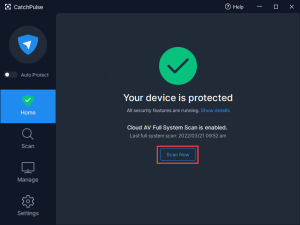 8. Review Scan Results
To review your previous scan results, click on Scan and look under Review Scan Results. To find out more, you can click on the respective links: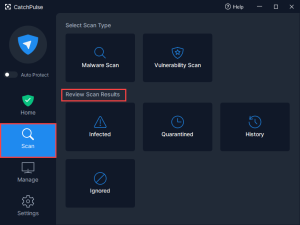 9. Application Allowlisting Modes
CatchPulse's Application Allowlisting comes in 5 distinct modes that are designed to accommodate the different levels of security that users may require. Click on the link below to find out more.
Last updated: November 24, 2023
Support and feedback
Should you encounter any issues using CatchPulse with any of the mentioned or missed requirements above, you can always write to us a docs@secureage.com.